Close cooperation with all parties involved
Communication with shipowners and ship management companies
We hold regular forums to facilitate interactions with ship owners and management companies. At the meetings, our president communicates in person with the participants to discuss Imoto Lines' initiatives, management policies and safety policies. The meetings are designed to foster safety cultures on the management side through lectures by external lecturers and conferences on how to prevent recurrence of accident. In light of the prolonged domestic seafarer shortage, liaison meetings of key personnel in charge of on-board labor matters are also held specifically to discuss the challenges faced by each company and to strengthen the cooperative system for resolving them.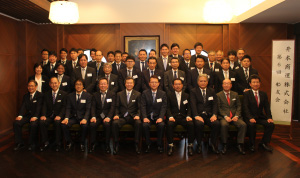 *Shipowners and seafarers' management companies at a forum.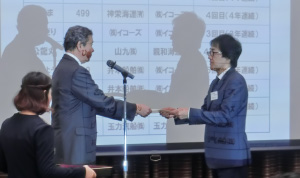 *Our president presenting Safety Award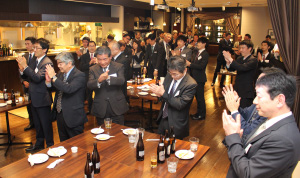 *Scene from a social gathering joined by shipowners and ship management companies involved.
In-house study sessions
In-house study sessions are regularly held with in-house instructors. The purpose is to help our employees deepen their knowledge, regardless of the department they belong to or the kind of job they engage in, on laws and regulations that shipping companies must comply, the structure of ships and the mechanisms of navigation among others.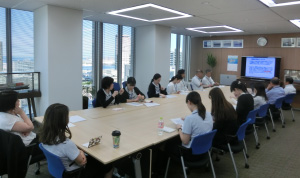 *Study sessions are provided to all employees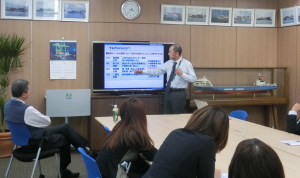 *Passing on their expertise to the next generation
Lectures by external speakers
During a regular forum, safety lectures are offered by inviting speakers active in the shipping industry. The lectures focus not only on accident prevention and maintenance management, but also on post-accident countermeasures and technical issues. This activity is one of our efforts to share knowledge and raise awareness among shipowners and manning companies.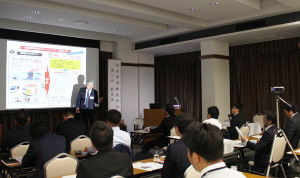 *Lectures by prominent figures in the shipping industry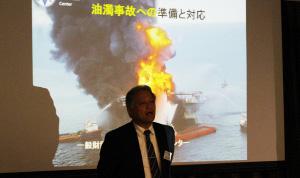 *So powerful and detailed lecture that we can easily imagine the scene.
Communication with crews
Our shore staff occasionally communicate in person with on-board crews through on-board inspections, safety classes, get-togethers and audits. Through these opportunities, we help them identify potentially dangerous areas in the ship, check the status of protective equipment and the atmosphere of teamwork and exchange opinions.
In addition, we also share information on revision of regulations and accident cases and conduct safety promotion activities.
Our shipbuilding department, which is in charge of on-board labor relations, provides detailed support and visits the ships to communicate with the crew members. The president and other members of the management team also occasionally visit the ships to brief management policies and financial reports.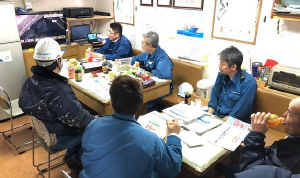 *Training sessions for seafarers' management companies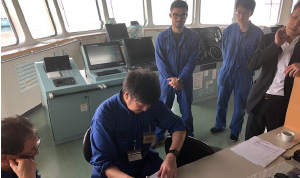 *Interview with the vessel at the time of the accident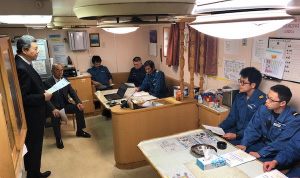 *Briefing on financial results and targets for the next fiscal year
Communication with the government
We share information on our safety initiatives and data analysis through lectures at relevant ministries and marine educational institutions.
We observe, when necessary, labor audits conducted by the labor inspector and periodically visit the Kobe District Transport Management Department which is responsible for administering us, Imoto Lines, to exchange opinions and share information.
Plus, we actively participate in seminars organized by the Ministry of Land,
Infrastructure, Transport and Tourism (MLIT) and related local departments as well as bureaus to promote communication between the public and private sectors and to harness our knowledge.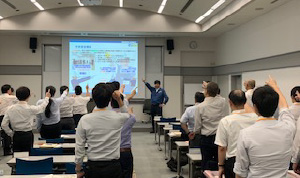 *Lectures at the National Land and Transportation University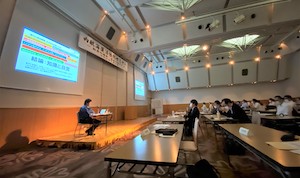 *Lecture at the coastal shipping revitalization seminar hosted by MLIT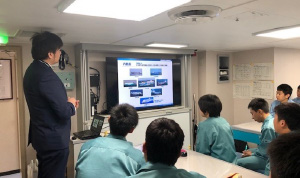 *Practice boat or school trip