Audit activities & Safety Standard "IMT2020"
Safety Standard "IMT2020"
"IMT2020" is our own Safety Management System (SMS) and rulebook for maintaining and strengthening the quality (safety and reliability) of the company.
"IMT2020" has ten chapters such as safe operation rules, emergency regulations and environmental protection regulations and each chapter involves formulated procedures, guidelines and operation manuals.
We provide various training necessary to maintain and improve the safety management system.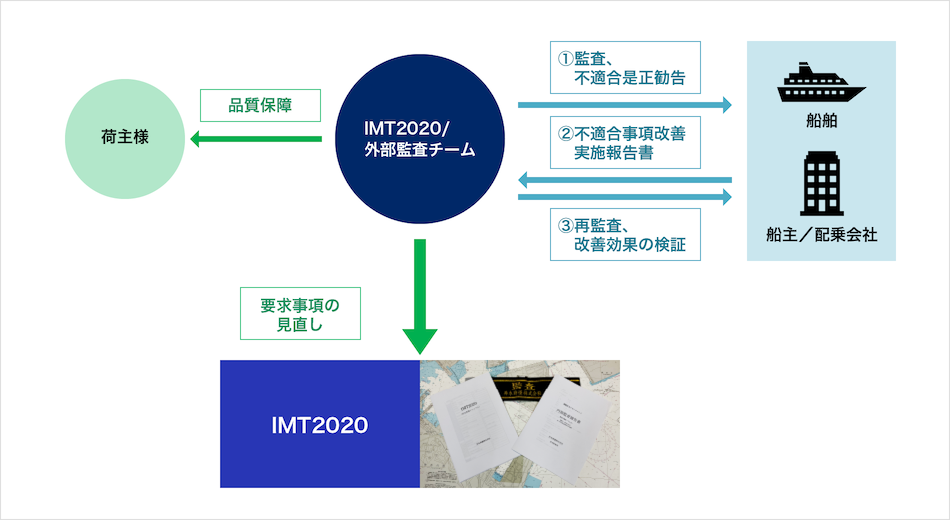 Audit Activities
Periodic and special audits are conducted by our audit department with external auditors (former captains and chief engineers) on our top management team, vessels in operation, and departments involved in the operations to ensure that they all safely operate and comply with laws and regulations, as well as "IMT2020". The auditors also provide valuable advice on safety issues based on their many years of experience.
*Ship audit (at least once a year for each vessel in operation)
*Accident audit (conducted on the ship, the ship's owner, and the crew in the event of a serious marine accident or incident)
*Audit on internal departments (conducted as appropriate for departments involved in ship operations)
*Audit on other companies involved (performed on ship owners and shipping companies as appropriate)