Environmental Initiatives
Aiming for Greener Logistics
Green Management Certification
We were certified for Green Management in May 2008.
The Foundation for Promoting Personal Mobility and Ecological Transportation, an affiliate organization of the Ministry of Land, Infrastructure, Transport and Tourism (MLIT) , serves as the certifying body for the Green Management Certification, which certifies and registers businesses that have achieved a good level of environmental protection based on the Green Management Promotion Manual.
As the problems of global warming and air pollution are becoming more serious, we recognize that it is one of our corporate social responsibilities to promote environmental protection activities and are actively working to reduce the environmental impact of our coastal shipping business.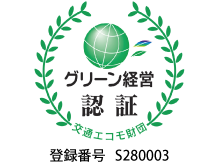 Eco-Ship Mark
The Executive Committee of the Eco-Ship Modal Shift Project, in cooperation with the maritime bureau of MLIT, launched "Eco-Ship mark certification system" with the aim of backing up companies that contribute to environmental measures and the promotion of modal shift. The Eco-Ship Mark certifies a company's contribution to environmental protection through marine transportation. As a member of the executive committee, we have been working on the certification system with many shippers.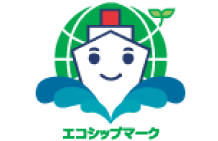 Green Logistics Partnership
It is operated by the Japan Logistics System Association, Japan Federation of Freight Industries, Ministry of Economy, Trade and Industry(METI), MLIT and Nippon Keidanren (Japan Business Federation) as a platform for deepening cooperation between shippers and logistics companies and for encouraging voluntary efforts to reduce CO2 emissions in logistics. As a member of the public relations committee, we have been working to promote modal shift in our country, and we intend to further accelerate our contribution.