Environmental Initiatives
Ship design for energy efficiency
Spherical bow bridge
In this spherical bow bridge system, the steering room (bridge), which is located on the stern side of a conventional ship, is on the bow side. The spherical shape reduces frontal wind resistance by approximately 30% compared to conventional ones, resulting in improved energy efficiency.
Our two 600-TEU containerships, "Natori" and "Nagara", have the spherical bow and we are the first company in the world to deploy containerships of this type.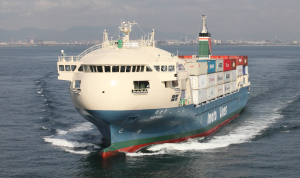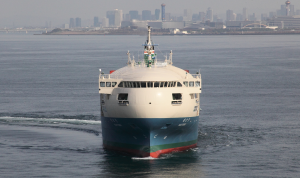 Front view of the 600TEU container carrier "Natori".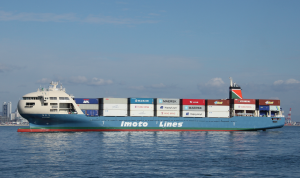 Side view.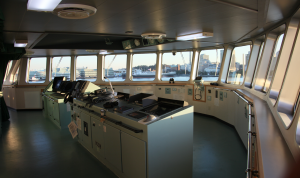 Interior view of the bridge.
<Manufacturer> Kyokuyo Shipbuilding Co.
<Patent number> No. 4933487
Gate Rudder System
The gate rudder has two specially shaped rudders arranged on both sides of the propeller. Compared with a conventional rudder located directly behind the propeller, the rudder system has no obstacles behind the propeller and therefore provides high energy savings.
By operating the two rudders, the direction of the propeller's water flow can be controlled, which improves the vessel's maneuverability when it leaves and lands on the berth.
We are the first company in the world to use the rudder system, which was installed on our "Shigenobu" (400-TEU vessel).

Video showing the Gate Rudder System (Kamome propeller)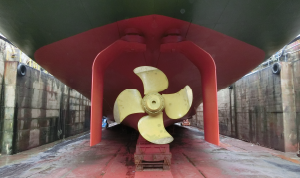 Gate rudder system (rudder on both sides of the propeller)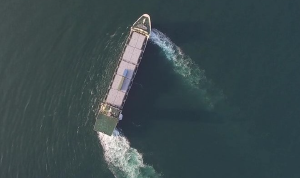 Gate rudder system (from the air)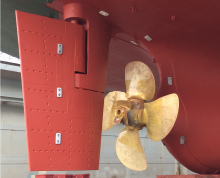 Conventional rudder (the rudder is directly behind the propeller)
Navigation Support System "eE-Navi Plan"
"eE-Navi Plan" is a navigation support system that assists ships by providing them with optimized navigation routes in their voyage. When voyage plans (arrival/departure time, etc.) are sent to the support system from a ship, it calculates the optimal voyage by considering weather and sea conditions and weather forecast to ensure that the ship arrives at the port at the planned time of arrival.
The system is currently used on "Natori" (600-TEU vessel).
It also enables the vessel to run at the minimum speed necessary to meet its scheduled arrival time, significantly reducing CO2 emissions.
The results of analysis, including monitoring data sent from the vessel, help evaluate its fuel savings, and voyage planning to improve operational efficiency in the future.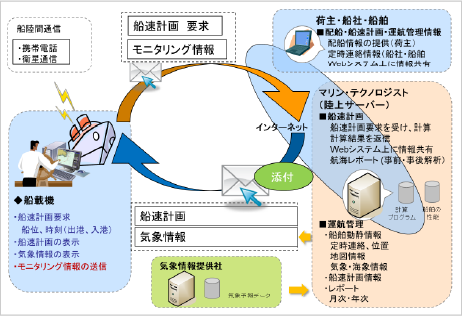 *System Image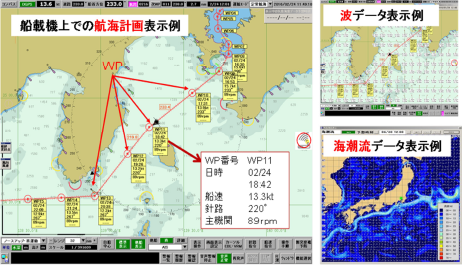 *eE-NaviPlan Monitor
<Service provider> Marine Technologist, a non-profit organization
<Trademark registration number> No. 5867782
Composite Eco-Stator
The composite eco-stator is a five-wing stator located in front of the propeller in order to regulate the flow of water at the stern.
As the ship moves forward, the stator converts the water flowing into the propeller into a flow in the opposite direction of the propeller's rotation. This generates higher propulsive force, which results in high energy efficiency.
The stator is made of a new material, glass-fiber-reinforced plastics (GFRP) to make a complex surface shape on it that cannot be done with steel, which offers higher performance compared to similar conventional devices.
Our "Nagara"(600-TEU vessel) is equipped with this system.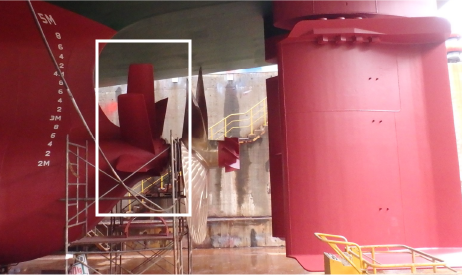 *Composite Eco stator is shown inside the white frame.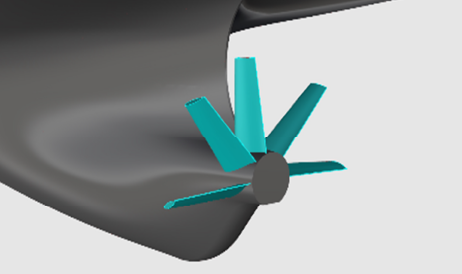 *Image.
<Manufacturer> Fluid Techno Co.